As October approaches, some look forward to football, Halloween, or maybe even Dia de los Muertos.
Our thoughts turn to the physics of flying pumpkins.
Do you see pumpkins for sale and think "ammunition"?
Do you find yourself mentally designing catapults at the hardware store?
You might be a hurler.
We hold a hurling competition every October on the University of Arizona Mall, using different types of catapults to throw for distance and accuracy.
Fun and learning for all!
Come join the fun!
Thank you to everyone for a successful 2013 competition. Hope to see all of you
next year for more vegetable flying physics!
2013 Video: http://youtu.be/h3JDsXSmAZc , plus Arizona MESA has lots more!
2013 Results: (updated - St. Gregory and Sabino got reversed on game day, apologies all)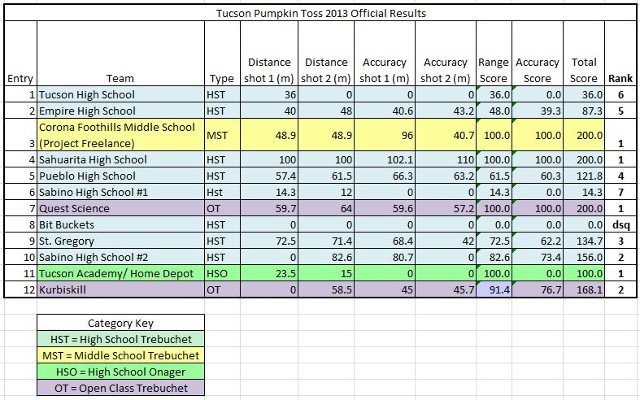 2013 Contest Specification - Minor updates from 2012 - no worries!
2013 Registration Form: - fill it out and send it in. Registration Deadline 13 September
2012 results: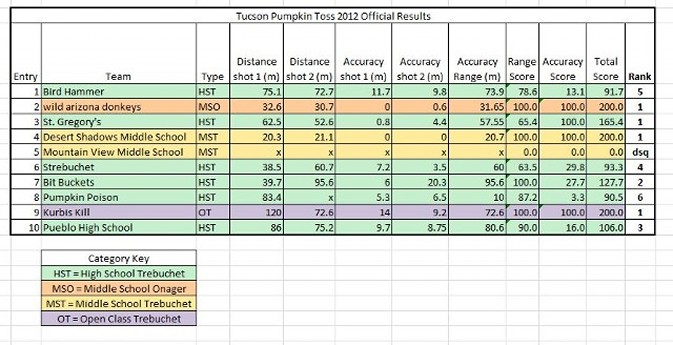 See 2011 Contest: https://www.youtube.com/watch?v=M5u-OM4a1yQ
2011 results: http://blog.physicsfactory.org11/11/2011-tucson-pumpkin-toss-results.htm